PROFESSIONAL GARBAGE BIN CLEANING & SANITIZING SERVICE

Additional bins are $10 per bin on MONTHLY and BI-MONTHLY SERVICES

$15 per additional bin for ONE TIME SERVICES
Monthly Service
(2 Bins) Once a month cleaning (Billed every 3 months @ $60)
$20
Request Service
Bi-Monthly Service
(2 Bins) Every other month cleaning (Billed every 6 months @ $75)
$25
Request Service
• Full Mobile Service - We Come To You!
• On-Time, Monthly, & Bi-Monthly Service Available
• 100% Environmentally Friendly
• Cleaning & Sanitizing
• Self-Containing Unit
• Wastewater & Cleaning Solution Disposal
• Green Seal Certified
Aqua Bins Exterior Cleaning Services is a 100% environmentally friendly garbage bin cleaning service specializing in cleaning and sanitizing of trash and recycling bins for residential and condominium associations. Our bin cleaning and sanitation method
is
equal to none other in today's market. Our self-contained cleaning unit collects all the chemical and wastewater to avoid
urban
run-off and circumventing contamination to our stormwater systems and environment. All wastewater is disposed of safely at a locally approved treatment facility. Our cleaning solutions are Green Seal certified. The combination of our cleaning process along with our use of Green Seal products
provides
you with a winning solution to ensure a cleaner, healthier home and neighborhood. We are now offering commercial garbage container and surface cleaning services. Contact us today for more information.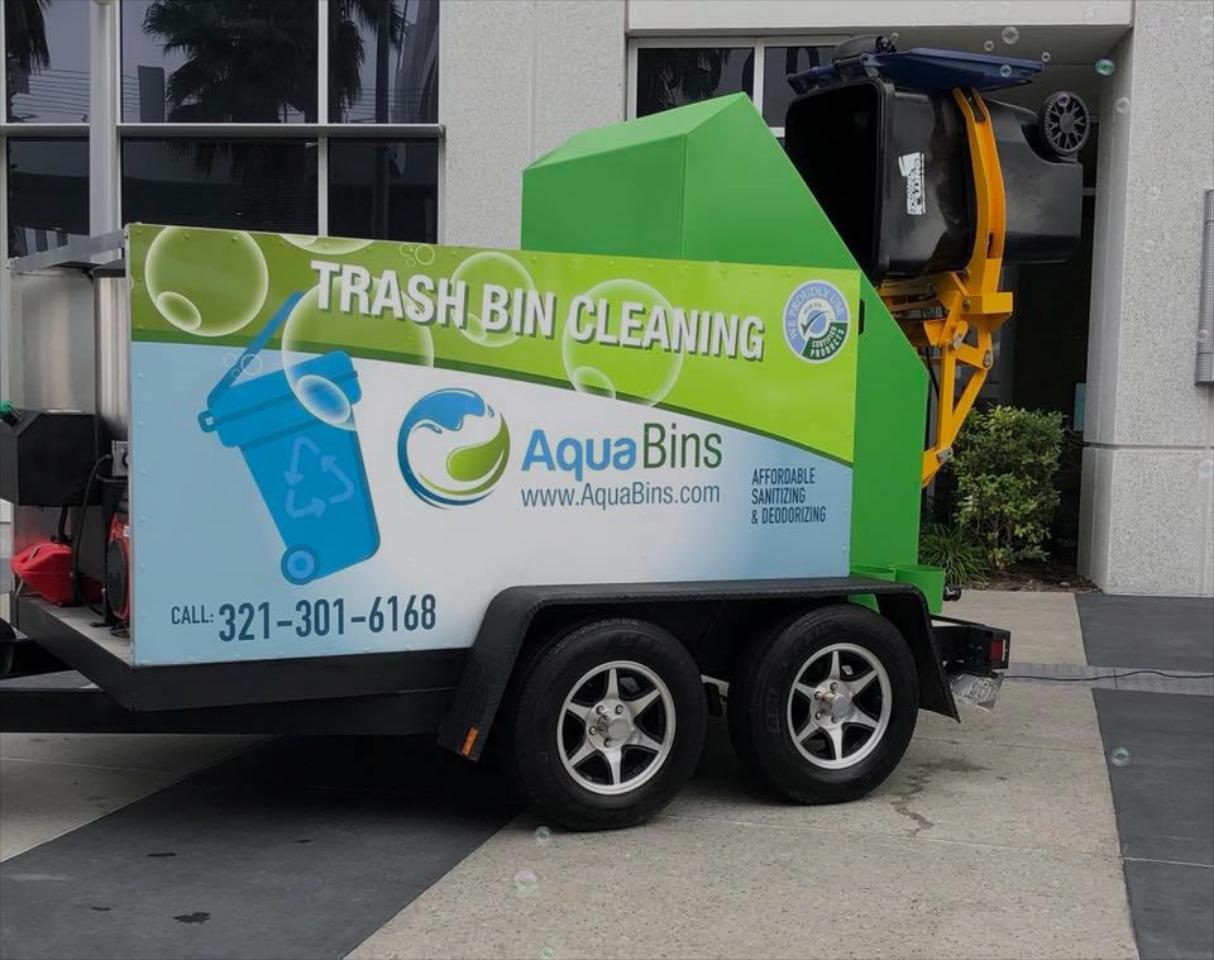 PAYMENTS & BILLING
We accept all major credit cards, check, PayPal or cash. We will invoice you prior to our first visit and billing is quarterly.
**Services are billed 3 months (3 cleanings) at a time for convenience**
Areas we are currently servicing:

Avalon Park Area, Stoneybrook, Eastwood, Wedgefield, Oviedo, Chuluota, Cypress Lakes, Corner Lakes, Waterford Lakes, East Orlando, Winter Springs

Please call the office for any service areas not listed
5 Reasons for Aqua Bins Exterior Cleaning Services to Clean Your Trash Bins Regularly
1. Eliminate Odor
– With all of the rotting food, disposable diapers, and other malodorous items we throw into our trash bins, it is no wonder that we stifle the urge to plug our noses every time we take out the trash. Waste, liquids in particular, can leak through even the smallest of tears in a trash bag and seep into the pores of a trash bin. This can make your trash can smell even when it is empty. Cleaning your trash can regularly can get rid of this odor.
2. Eliminate Germs
– Throwing away old food, and used diapers can infect your trash can with germs and diseases, such as Salmonella, Listeria, and E-Coli. Sanitizing your trash bins will kill these germs, and help keep you and your family safe.
3. Get Rid of Maggots
– Have you ever noticed how flies are attracted to your trash? According to the Washington State Department of Ecology, flies are attracted to odors, and lay their eggs in "moist, organic material." While having flies buzzing around your head can be irritating, it's even worse to find maggots (baby flies), crawling through your rubbish. Keeping your trash bins odor free will keep flies from finding them.

4. Keep Wild Animals Out – Animals are often attracted to food found in trash cans. Rodents, wild dogs or cats, and even raccoons can often be found rummaging through trash bins. They are attracted by the smells, and remnants of past bags of trash. If these are cleaned out regularly, there is nothing to draw their attention.

5. Keep Trash Cans Looking Nice (Curb Appeal) – When your trash bins look nice and clean, it's not as much of a chore to take the trash out. You don't have to worry about accidentally smudging your clothes, or encountering unwanted smells or creatures. It also gives your house and property a sense of curb appeal. Cleaning your trash bins regularly can help with all of these issues.

Get in-touch with us for an eco-friendly solution to clean, sanitize, and maintain your trash bins. We look forward to working for you!