Aqua Bins Exterior Cleaning Service

Orlando, Florida
Driveways & Sidewalks
Keep all of your hardscapes clean and pristine with regular pressure washing services from Aqua Bins Exterior Cleaning Services.
We clean driveways, patios, walkways, retaining walls, and whatever else you throw our way. Whether you're just looking for a spruce up, or you have a much tougher cleaning project, we have the equipment and experience to handle jobs of almost any size. Our processes remove a variety of dirt and foreign matter that can cause your property to look dull or dingy.
Pool Decks
Restore the natural beauty of your paver or painted pool decks with professional pressure washing services from Aqua Bins Exterior Cleaning. Pressure washing is a great way to safely remove years of staining, grit, and grime. We offer many service options to match your budget and cleaning needs.
Low Pressure Soft Washing
Aqua Bins Exterior Cleaning Services offers low pressure "Soft Washing" services for exterior spaces and property. Let us help with your routine cleaning to gently clean up your homes soffits, fascia, stucco, siding, windows, and more. Contact us today for more information or to request a free estimate for your low pressure washing project.
Commercial Property Cleaning
Common Areas
Parking Lots
Crosswalks
Playgrounds
Store Front
Sports Courts
Entryways
Exterior Surface Cleaning
Dumpster Pads
Aqua Bins Exterior Cleaning Services provides effective commercial pressure washing services throughout Orlando and the surrounding areas. Concrete parking lots, parking garages, parking ramps, walkways, entryways, dumpsters, canopies, and exterior surfaces become extremely dirty over time from the collection of dirt, fuel, tire rubber, mildew, oil, grease and other materials. Cars, trucks, and people cause the concrete to become sticky, gunky, slippery and dark from all the debris. Our professional grade surface cleaners use specialized chemicals to wash and remove all these contaminants.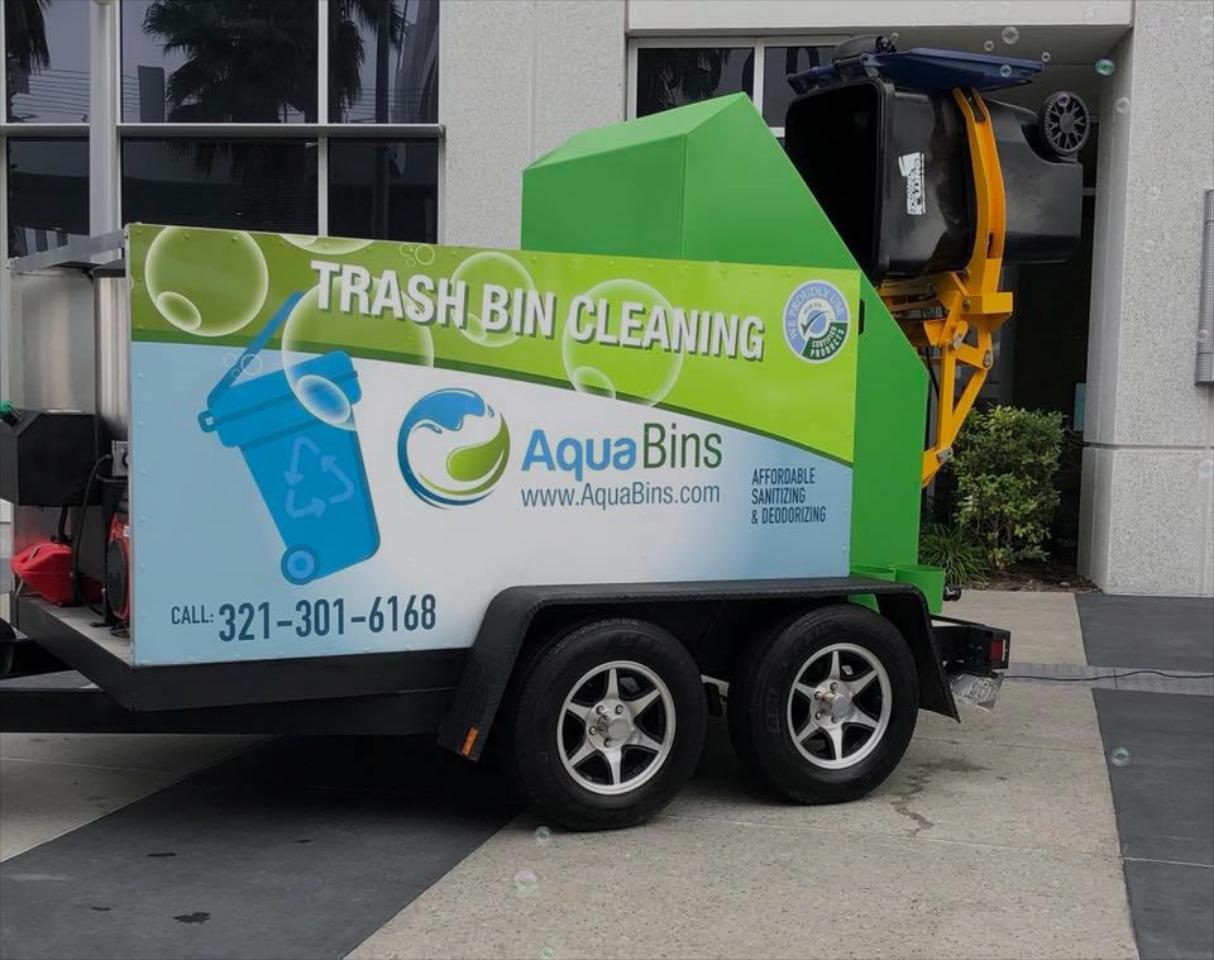 PROFESSIONAL GARBAGE BIN CLEANING & SANITIZING SERVICE
FULLY INSURED
Full Mobile Service - We Come To You!
One-Time, Monthly, & Bi-Monthly (every other month) Service Available
100% Environmentally Friendly
Cleaning & Sanitizing
Self-Containing Unit
Wastewater & Cleaning Solution Disposal
Green Seal Certified
Satisfaction Guaranteed
No Contracts
Residential & Commercial Service
Servicing the Avalon Park Area, Stoneybrook, Eastwood, Wedgefield, Oviedo, Winter Springs, Chuluota, Cypress Lakes, Corner Lakes, Waterford Lakes, East Orlando.